Grilled chicken cheese with ham. The grilled chicken HAS to be boneless, skinless chicken breasts because Curtis cannot deal with bones. We had leftover chicken and were planning on making grilled cheese sandwiches (I don't think I have ever told you how obsessed we are with grilled cheeses) and Curtis suggested we. Breaded chicken stuffed with ham and cheese sounds pretty pedestrian, but it tastes extraordinary.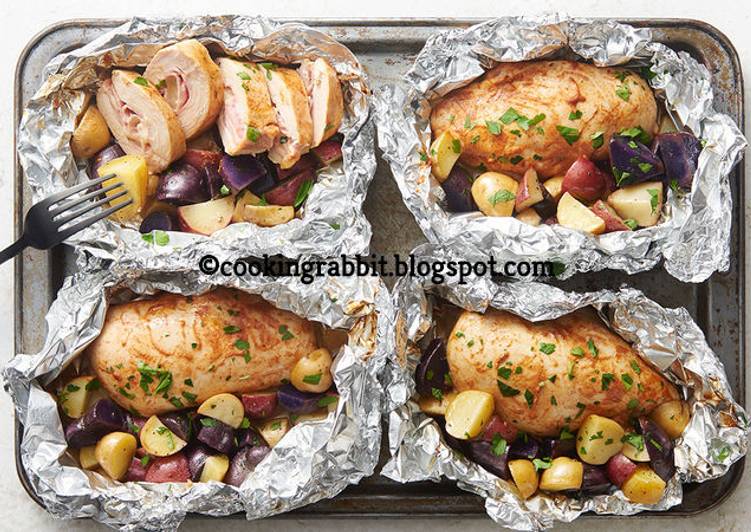 Chicken stuffed with ham and Swiss cheese. I hope you enjoy it as much as I have. You can use any type for pre-cooked shredded chicken you may have on hand or you can use my quick and easy recipe for making shredded chicken. You can cook Grilled chicken cheese with ham using 11 ingredients and 7 steps. Here is how you achieve that.
Ingredients of Grilled chicken cheese with ham
Prepare 4 of boneless skinless chicken breasts (6 oz each).
You need 4 slices of Swiss cheese (1 oz each).
It's 4 slices of deli ham (1 oz each).
Prepare 2 tablespoons of Dijon mustard.
Prepare 1 tablespoon of Worcestershire sauce.
You need 1/2 teaspoon of smoked paprika.
Prepare 4 tablespoons of butter, melted.
It's 1/2 teaspoon of salt.
It's 1/2 teaspoon of pepper.
Prepare 1 lb of multicolored fingerling potatoes, cut in 3/4-inch pieces.
It's 2 tablespoons of chopped fresh Italian (flat-leaf) parsley leaves.
Take a normal grilled cheese from everyday to extraordinary by adding delicious chicken salad to the mix. Time to up your grilling game! We start with grilled asparagus rafts brushed with BUSH'S® Bourbon and Brown Sugar Grillin' Beans® sauce. Then comes the star of the show: stuffed chicken with serrano ham and manchego cheese.
Grilled chicken cheese with ham instructions
Heat gas or charcoal grill. Cut 4 (18×12-inch) sheets of heavy-duty foil. Spray with cooking spray..
In thick side of each chicken breast, cut 3-inch-long pocket to within 1/4 inch of opposite side of breast. For each breast, cut 1 slice of cheese in half, and add to pocket; cut 1 slice ham in half, and add to pocket. Secure with toothpicks. In small bowl, mix 1 tablespoon of the mustard, the Worcestershire sauce and smoked paprika. Brush chicken breasts with Dijon mixture..
In medium bowl, mix remaining 1 tablespoon mustard, the melted butter, salt and pepper. Add potatoes, and toss to coat. Place chicken on center of each sheet of foil. Spoon potato mixture equally around each chicken breast..
Bring up 2 sides of foil so edges meet. Seal edges, making tight 1/2-inch fold; fold again, allowing space for heat circulation and expansion. Fold other sides to seal..
Place packs on grill over medium heat. Cover grill; cook 12 minutes. Rotate packs 1/2 turn; cook 9 to 11 minutes longer or until potatoes are tender and juice of chicken is clear when center of thickest part is cut (at least 165°F). Remove packs from grill; cut large X across top of each pack. Carefully fold back foil, and garnish with parsley..
To make in oven, place packs on cookie sheet. Bake at 375°F 30 to 35 minutes or until potatoes are tender and juice of chicken is clear when center of thickest part is cut (at least 165°F); garnish with parsley..
NOTES To make the pockets in the chicken breasts, use a small paring knife for better control. Make sure all the filling stays inside, where it belongs. Stuff cheese in pocket before adding ham so the ham blocks the exit..
They're generously seasoned with salt and pepper, basted with. Take grilled chicken sandwiches from ho-hum to glorious with this fantastic chicken melt recipe. But what really takes this recipe to the next level is, for the last two minutes of grilling, the chicken is topped with a slice of ham and a slice of Cabot Sharp Cheddar and covered until the cheese is melted. Layer the cheese and ham between the bread slices (keeping the buttered sides on the outside). Transfer the flour, eggs, and breadcrumbs.