Gypsy Soup.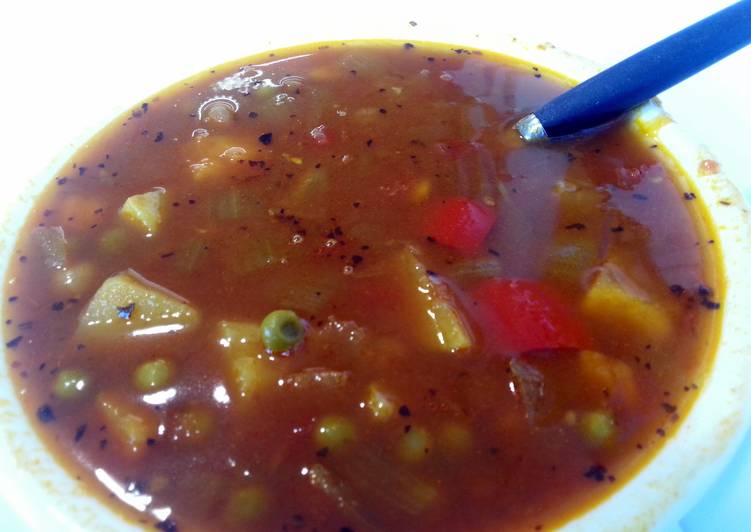 You can have Gypsy Soup using 18 ingredients and 8 steps. Here is how you achieve it.
Ingredients of Gypsy Soup
You need 1 of splash of olive oil.
Prepare 2 of roughly chopped onions.
Prepare 4 stick of of celery, chopped.
It's 2 cup of sweet potato/kumara, cubed.
Prepare 3 clove of garlic, crushed.
Prepare 5 cup of water.
It's 2 tsp of paprika.
It's 1 tsp of tumeric.
You need 1 tsp of sweet basil.
It's 1 of bay leaf.
It's 1 dash of cinnamon.
Prepare 1 dash of cayenne pepper.
You need 1 of capscicum, chopped.
You need 1 cup of peas.
Prepare 1 can of tomatoes.
It's 1 can of chickpeas.
Prepare 1 tsp of salt.
You need 3 tbsp of tamari/ soy sauce.
Gypsy Soup step by step
Heat the olive oil in a large soup pot and add onion and celery. Sweat for five – ten minutes until starts to glisten.
Add the sweet potato and garlic and sweat for another five or so minutes.
Add the water amd all spices except for the salt and soy sauce.
Simmer covered for 15 minutes.
Add the chickpeas, tomatoes and all other vegetables. Simmer for a further 10 -15 minutes.
Add the salt and soy sauce (tamari is a gluten free option if you need it)..
Stir through, check your seasonings and serve..
Note : you can use any vegetables really. As long as you have a root vegetable and something green for colour. I've used potatoes and brocolli instead of sweet potato and peas in the past. delicious! My partner likes his with a dollop of sour cream which is pretty yummy too :).