Easy Roasted Vegetables. I didn't have any winter squash, but I added baby carrots & sliced zucchini. One thing I did different, I put the root vegetables (onion, potatoes & carrots) in one bowl & the more delicate vegetables (peppers & zucchini) in another bowl, they I divided the oil/vinegar/herb mixture between the two bowls. Spray the bottom of the pan with cooking spray.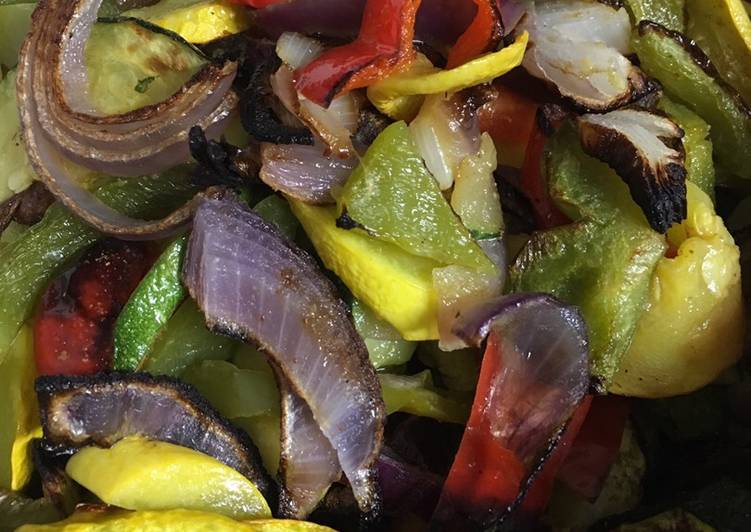 Sprinkle with salt, pepper and basil. HOW TO MAKE OVEN ROASTED VEGETABLES. Roasting vegetables is an easy and very simple, almost hands-off skill. You can cook Easy Roasted Vegetables using 8 ingredients and 2 steps. Here is how you cook it.
Ingredients of Easy Roasted Vegetables
You need of Couple of Zuccinis.
Prepare of Squash.
You need of Red and green bell peppers.
It's of Red onions.
You need of Salt.
It's of ground garlic.
It's of Ground oregano.
You need of Olive oil.
Vegetables are a healthy food to feed yourself and your family, and roasting them is one way to make those veggies wanted, demanded, and loved. The hot oven brings out the natural sugars in vegetables, and that results in a sweet and an amazing depth of flavor. Oven roasted vegetables are an absolute necessity for any home cook. This recipe is so simple, and it's the perfect side dish for any meal!
Easy Roasted Vegetables step by step
Set the oven in broil. Cut zucchinis and squashes horizontal, cut other veggies too. Toss with olive oil and salt pepper, oregano, garlic and maybe cumin too in a mixing bowl. Layer them in a flat oven proof tray or cooking sheet..
Roasted them try to turn them in halfway(watch out the steam coming out from oven. It's too hot!)watch them change their colors. It's ready. Use different veggies, (carrots, beets, Brussels sprouts,).
Finding healthy and easy recipes that also happen to be bursting with flavor is a constant struggle. But this simple roasted vegetables recipe solves that problem! You can roast just about any vegetable. Just use the same simple method – chop (things such as green beans and asparagus just leave whole), drizzle with oil, season, toss and roast. Toss once or twice through baking.