Tuna melt stuffed portobellos. Remove the mushrooms from the oven. Divide tuna mixture among mushrooms, and spread evenly in caps. The tuna salad used for these Portobello Tuna Melts is loaded with flavor.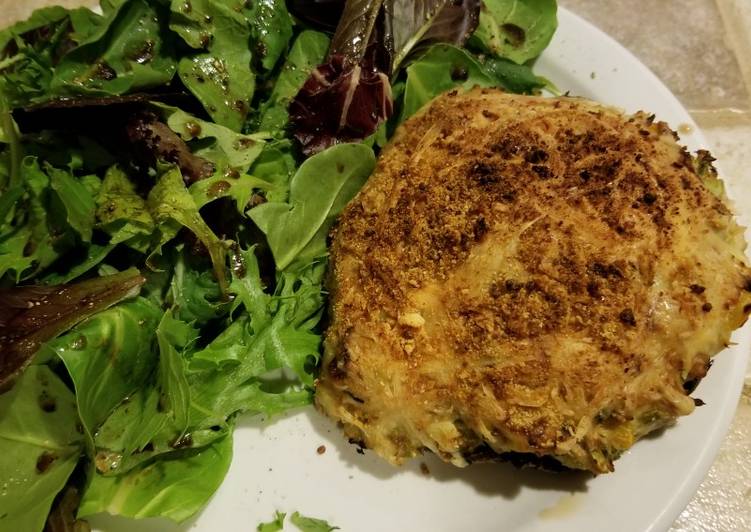 The base of the tuna melt is large portobello mushrooms. Remove and discard stems from mushrooms. Place caps on a greased baking sheet. You can cook Tuna melt stuffed portobellos using 10 ingredients and 7 steps. Here is how you cook it.
Ingredients of Tuna melt stuffed portobellos
You need 2 cans of flaked light tuna, drained.
It's 1/2 cup of colored bell pepper, diced (I used yellow).
It's 1/2 cup of celery, diced.
You need 1/2 cup of mustard leafs, finely chopped.
You need 1/2 cup of mayo (I used Hellmann's).
You need 1 teaspoon of Old Bay seasonning.
Prepare to taste of Fresh groung black pepper.
It's 4 of portobello heads, emptied.
It's 1 cup of sharp cheddar cheese, shredded.
You need 1 tablespoon of breadcrumbs.
Stuff with tuna salad; top with cheese. Great recipe for Tuna melt stuffed portobellos. Tastes like crab cakes!! 😄😄 You can use any type of greens instead of mustard leafs (kale, spinach, etc) and any type of cheese you like. In my opinion, seeing is believing.
Tuna melt stuffed portobellos instructions
In a bowl, mix together seven first ingredients..
Lay portobello heads on a foiled cookie sheet and fill in the portobello heads with tuna mix..
Cover with cheese and sprinkle with breadcrumbs..
Cook in pre-heated oven at 400° for 20 minutes..
Cook at broil a couple of minutes till top is golden brown and crispy..
Serve with a green salade and/or french fries..
Enjoy!.
Bumble Bee ® Solid White Albacore Tuna is quality you can see – the moment you open the can. With a firm texture, light color and fresh taste – Bumble Bee ® Solid White Albacore is the perfect ingredient to deliciously enhance almost any recipe, adding a variety of nutrients – including lean protein, healthy fat and important vitamins and minerals. Combine the tuna, Swiss cheese, mayonnaise, sweet relish, dried onion, onion powder, salt, and pepper in a large bowl. Fill mushroom caps with the tuna mixture; place on baking sheet. Place the caps onto the lightly greased baking sheet.