Oatmeal Raisin No-Bake Cookies. These healthy no bake cookies are made without butter and are sweetened with maple syrup and half of a banana. They're full of fiber from the oats and protein thanks to almond butter The flavor of these no bake cookies was dead on to that of an oatmeal raisin cookie with a hint of the banana flavor. Oatmeal raisin cookies could not get any easier!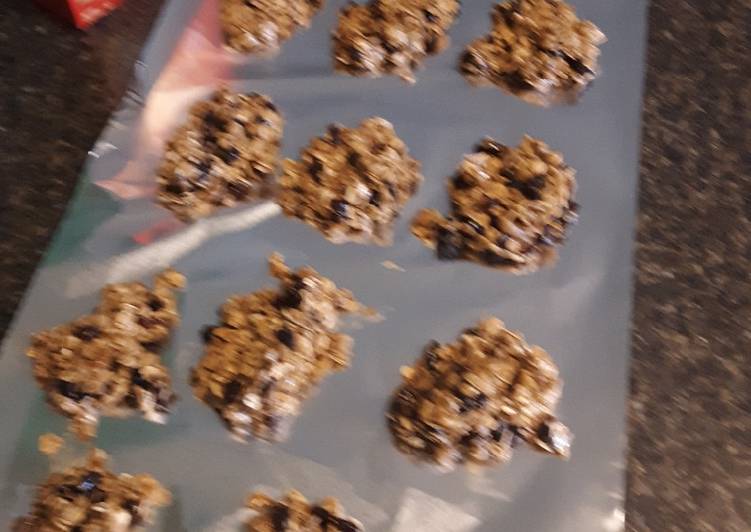 Oatmeal Raisin Cookies No Baking Soda Recipes. Chewy Oatmeal Raisin Cookies Without ButterUnicorns In The Kitchen. Oatmeal Raisin Cookies are hard to beat. You can cook Oatmeal Raisin No-Bake Cookies using 7 ingredients and 2 steps. Here is how you achieve it.
Ingredients of Oatmeal Raisin No-Bake Cookies
You need 2 1/2 cups of oats.
It's 1/2 cup of raisins.
Prepare 1 stick of butter.
You need 1/2 cup of milk.
It's 2 cups of brown sugar.
It's 2 tbsp of cinnamon.
It's 1 tsp of vanilla extract.
Their edges are crisp, their flavor is buttery sweet, and their texture is wonderfully soft and chewy. They are great for breakfast, as a snack, or for something a little special, use them to make a breakfast trifle. A breakfast trifle is made by crumbling the oatmeal. No Bake Oatmeal Cookies are a quick and easy snack, without turning on the oven!
Oatmeal Raisin No-Bake Cookies instructions
In a largish pot bring sugar, milk, butter, and cinnamon to a boil, let boil for 5 min stirring constantly..
Remove from heat, stir in oats, raisins, and vanilla extract. Spoon onto foil and allow to cool..
No Bake Oatmeal Cookies are an easy and quick treat with simple ingredients you likely have on hand. Made with oats and cocoa, they are chewy, chocolaty, and bites of homemade goodness! I love oatmeal raisin cookies, they are one of my all-time favorite cookies. I wish I could eat them every day, but I don't always have time to bake cookies and I When I am craving cookies and don't have time to bake or am trying to be "good" I make No-Bake Oatmeal Raisin Cookie Energy Bites. Oatmeal Raisin Cookies made with oats and raisins: completely gluten-free and flourless cookies!