Gluten free/ corn free Pumpkin pie cake. More Gluten Free Pumpkin Pie Recipes. Creamy Pumpkin Pie Bars (V + GF). I also used organic all purpose flour and potato starch in place of gluten-free flour and corn starch.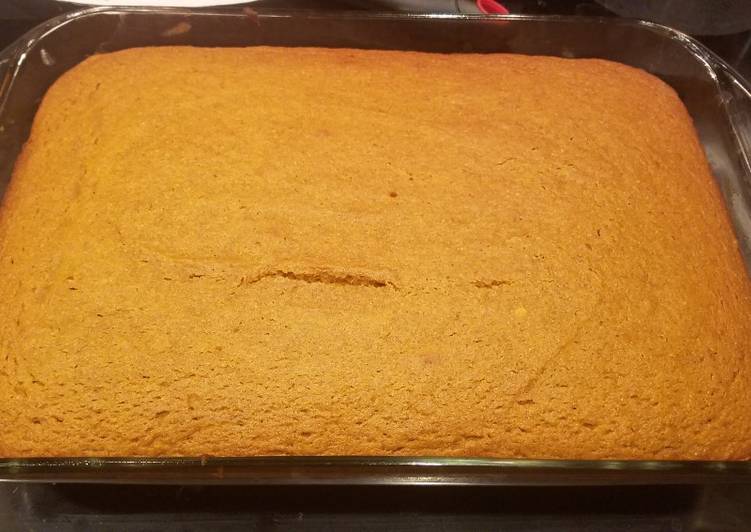 Get this tested, easy-to-follow gluten free pumpkin butter cake—sweet, rich butter cake with pumpkin cheesecake baked on top! And it's filled with the nicest, lightest most lightly sweet pumpkin cheesecake you've ever had. Other than apple pie and pumpkin pie, I wouldn't say that it's so. You can have Gluten free/ corn free Pumpkin pie cake using 9 ingredients and 5 steps. Here is how you cook that.
Ingredients of Gluten free/ corn free Pumpkin pie cake
It's 2 1/4 cups of gluten free flour (doesn't have xanthan gum).
Prepare 1 1/2 cups of raw sugar.
It's 2 teaspoons of cream of tarter.
Prepare 1 teaspoon of sea salt.
It's 1 teaspoon of baking soda.
You need 1 1/2 sticks of butter (12 tablespoons).
You need 4 of eggs.
It's 30 oz of canned pumpkin pie mix.
It's 2 teaspoons of pumpkin pie spice.
Gluten-free bundt cakes are super easy to whip up and are always a crowd-pleaser. Now that it's pumpkin spice everything season Add the canned pumpkin, pumpkin pie spice, ground cinnamon, pure vanilla extract, baking soda, baking powder, and eggs to your bowl and mix until fully combined. Whisk the pumpkin pie spice into the cake mix. Do this before you add the wet ingredients to prevent the spice.
Gluten free/ corn free Pumpkin pie cake instructions
Mix all dry ingredients together..
Add wet ingredients and eggs. Mix well.
Pour into 9×13 glass pan..
Bake at 350° for 45-60min. Start checking at 45min with toothpick. Toothpick should come out clean.
.
This gluten free pumpkin cake is super moist and surprising light. It's the perfect fall-inspired dessert and sure to be a crowd-pleaser. I topped some of my slices with the candy corn pumpkins and some sprinkles. This is why we're so excited to share this gluten-free pumpkin pie recipe with you. Readers, who have made it, comment that their families happily ate this pie without noticing any difference, and, even better, they tell us they'd make it again!